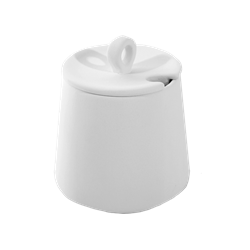 Dimension
Pot: 4 ½" H x 2 ?" Dia; Spoon: 5 ¾" L (12 Ounces)
Do you have a hankering to visit the 100 Acre Woods?   You are going to love this! and Who doesn't love a honey pot?
The design of the honey pot is made to be an everyday use kind of piece! This bisqueware piece is functional first but also beautiful and open to endless possibilities in decorating.
Honey fans, honey bear fans, tea people, and anybody who wants to liven up their kitchen will love to decorate their very own Honey Pot! This gorgeous ceramicware piece is so simple that kids and novices will love to paint it, and it's an open canvas for the expert artists!